Output - Specification Sheet:
The specification sheet page can be broken down into five parts as illustrated below: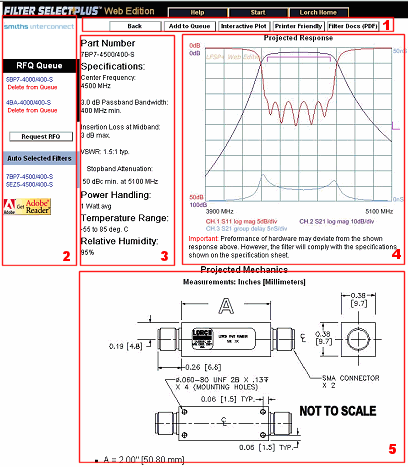 Button Bar
Gutter
Specifications
Electrical Response Plot
Mechanical Drawing
1 - Button Bar:
The button bar consist of five buttons:
Back - A link back to the input section of the program.
Add to Queue - Adds a filter the RFQ Queue.
Interactive Plot - A link to the interactive electrical response plot.
Printer Friendly - View the specification sheet only with out any of the navigation and command links. Though formatted for printing, the recommended process for printing the specification sheet is to download the PDF documentation and print it through a PDF viewer.
Filter Docs (PDF) - Documentation which includes the Specification Sheet, the Mechanical drawings and mount information (if applicable) for the filter.
2 - Gutter
The gutter is where the dynamic links are placed such as the RFQ Queue and the Auto Select found filters. Clicking on the link of any filter will lead to the filter's specification sheet.
The RFQ Queue consists of the filter's part number as a link to its specification sheet and a link below this titled "Delete from Queue" for removing the filter from the queue. There is also a link button, "Request RFQ", that leads the RFQ form .
The "Auto Selected Filters" contains all of the filters that the Auto Select feature found. These filters remain here for easy navigation between the filters for comparison purposes.
Finally, there is a link to the Adobe Acrobat software download that will enable the user the view any PDF documents generated by this web site.
3 - Specifications
The specification section contains the filter's Part number, electrical specifications and environmental requirements. Also, any warnings about verification will appear here.
4 - Electrical Response Plot
This is a projected electrical response plot. It is not guaranteed that the filter will have the exact same electrical response but the filter will meet the specifications as given in the specifications section.
5 - Mechanical Drawing
This is the mechanical outline drawing. Any variable measurements will have their variables defined in a table below the drawing. This drawing is not to scale.